Mother's Day
Mother's Day 2018
Best ideas to spoil Mum for Mother's Day
Whilst we obviously believe that flowers are the perfect gift for every occasion, we are happy to concede that there are other ways to impress your Mum this Mother's Day. We have put together a little list of ideas, along with our picks for the best flowers to show Mum some love.
We are also so very excited to introduce our new partnership with MyBaker. This new service will allow you to purchase a freshly baked cake along with our flowers. In addition to cakes we are offering mini cakes and macaroons in a host of delicious flavours. The perfect touch for a birthday gift or a gesture of appreciation, we will even deliver to anywhere you need in London.
So here's our best bets to impress your Mother, Grandmother, Aunt or just someone special this Mother's Day.
Roses & A Beautiful Cake 
Talk about matches made in heaven! What could be better than a delicious piece of cake and fresh flowers?
There are some absolutely gorgeous roses in season at the moment, from beautiful blush pinks to sunny yellows and the perfect peachy apricots. At the moment our picks are the roses from the Avalanche family, you may have heard the names Avalanche, Sweet Avalanche, Candy Avalanche, and the list goes on! These roses have a beautiful, tight bud that blooms into a gorgeous, long lasting rose.
Pair these with a Vanilla and Raspberry cake from MyBaker and you've got yourself a winning combination.
A Beautiful Spring Bouquet & Breakfast in Bed
Always a winner, make sure you've got a pot of freshly brewed coffee and these delicious pancakes to go with it – Bill Granger's Ricotta Pancakes with Honeycomb butter.
Spring flowers make the perfect posy for your Mum's bedside table and are guaranteed to bring some much needed sunshine to her bedroom!
Our picks for Spring would be a bouquet of hyacinths and tulips, with some lovely freesias and foliage to go with them. A lovely, joyous thank you for someone you treasure.
We love to celebrate the seasons at Kensington flowers, in particular the Spring flowers bring much joy for us! Tulips are in season from now until May so make the most of their season and the beautiful colours and varieties on offer. Tulips come in three different varieties, the single, double and parrot varieties.
The tulips currently in stock at Kensington flowers are supplied by British grower Smith and Munson from South Lincolnshire. They have been in the business since 1949, so you can be assured you are buying good quality blooms from a British grower.
A Few More Gift Ideas…
A Vase Arrangement
We have a range of beautiful arrangements that would make the perfect present. We can do arrangements with a mix of colours, like the one below with pinks, yellows and whites.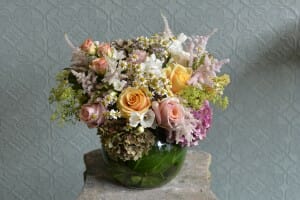 Potted Spring Bulbs
Finally for the gift that will truly bring the outside in we have some lovely potted baskets with beautiful scented jasmine, hyacinths and narcissi.
To order your bouquet for Mum this Mother's Day view our range of bouquets and arrangements here.
If you would like something in particular please call the shop on 020 7225 3176.