Christmas 2019
It's the most wonderful time of the year! The Kensington High Street is full of busy shoppers and looking beautifully festive for the season. Hyde Park and Kensington Palace around the corner are now full of local children having finished term and we are busy preparing Christmas decorations to have your front doors and your homes looking fabulously festive!
This year we have hardly had a moment to prepare wreaths for the shop and as such, all of our wreath orders have been bespoke. It's lovely for us to see each one head out the door and look so resplendent when it reaches its destination and is hung in its place.
We have also prepared a range of advent wreaths and candle centrepieces for your homes. These have been most popular this year. Our beautiful St. Eval candles make the perfect focal point for the arrangement, handmade in Cornwall they are unique and from a small, local business like us. With their range of festive colours – bright reds, oranges and deep greens and a choice of scents they compliment the foliage perfectly, making them a showstopper for your table.
To shop our selection of Christmas products please click the links below.
Christmas Door Wreaths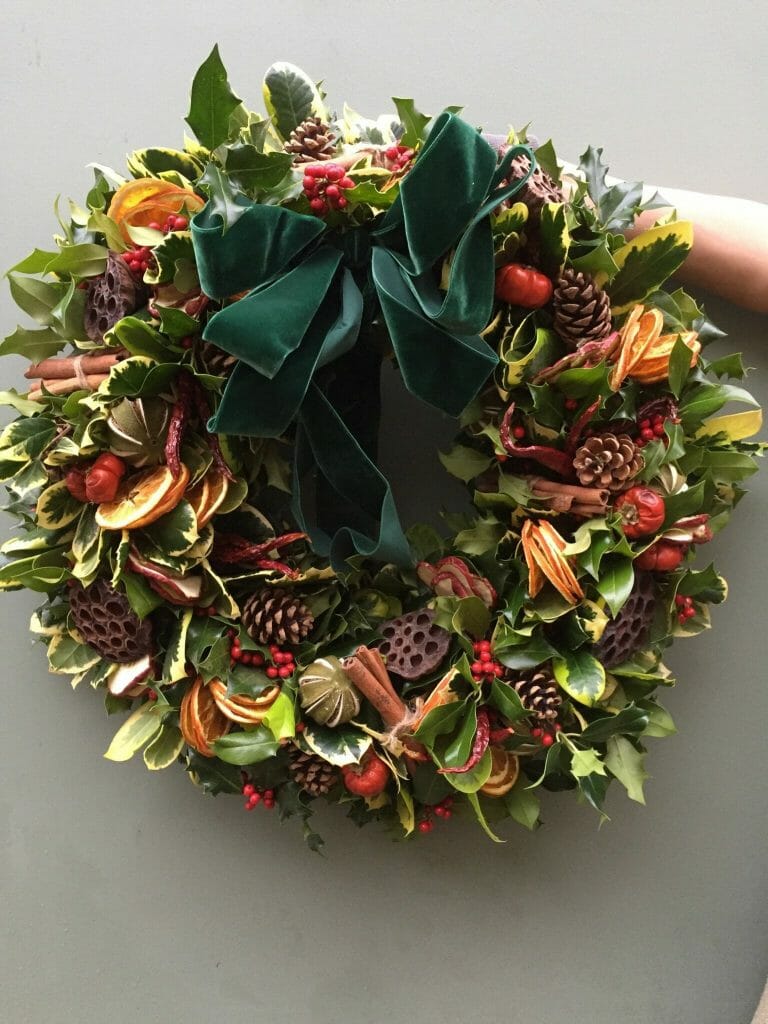 We create our Christmas wreaths using a variety of foliages from traditional pines to more modern olive leaf and eucalyptus.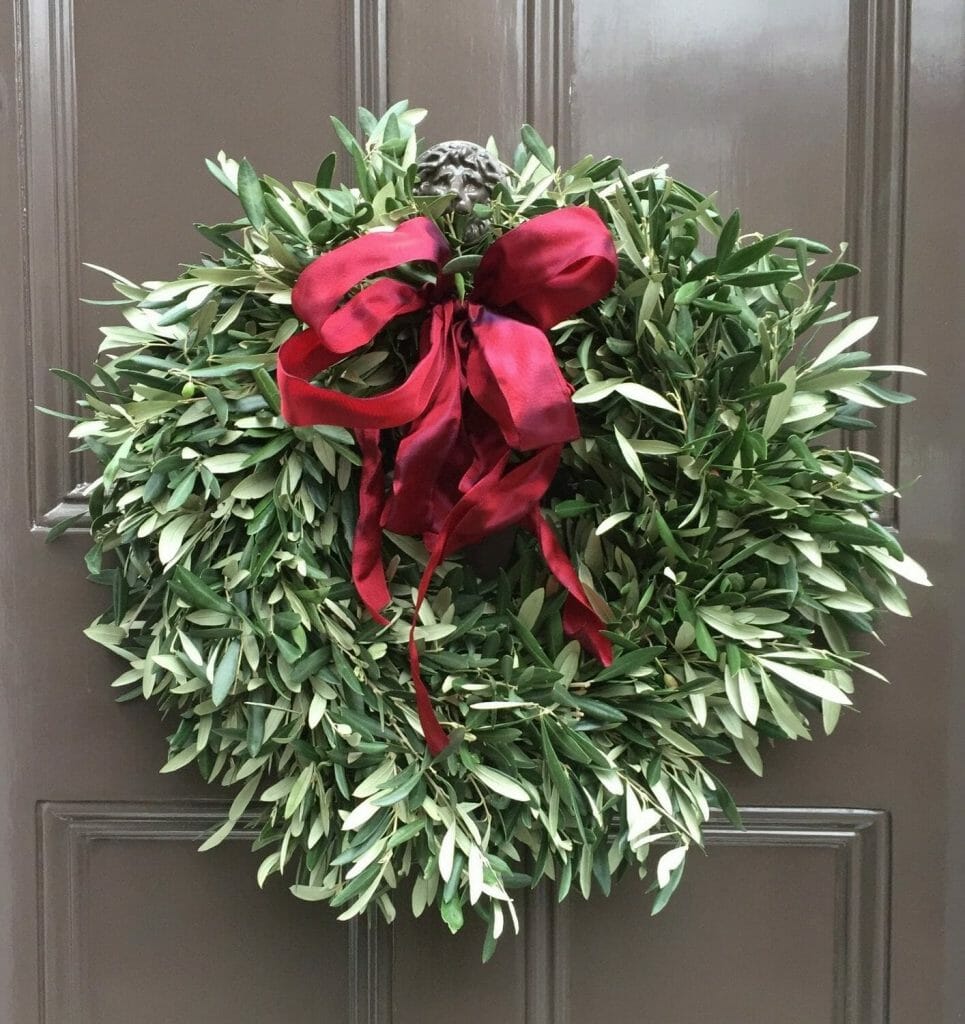 If you fancy something more decorative or colourful we can add anything  from cinnamon sticks, oranges, limes, pine cones, berries, Lichen or red dogwood branches, lotus seed heads to colourful baubles and candy sticks. We stock a range of lovely ribbons too, the choice is yours…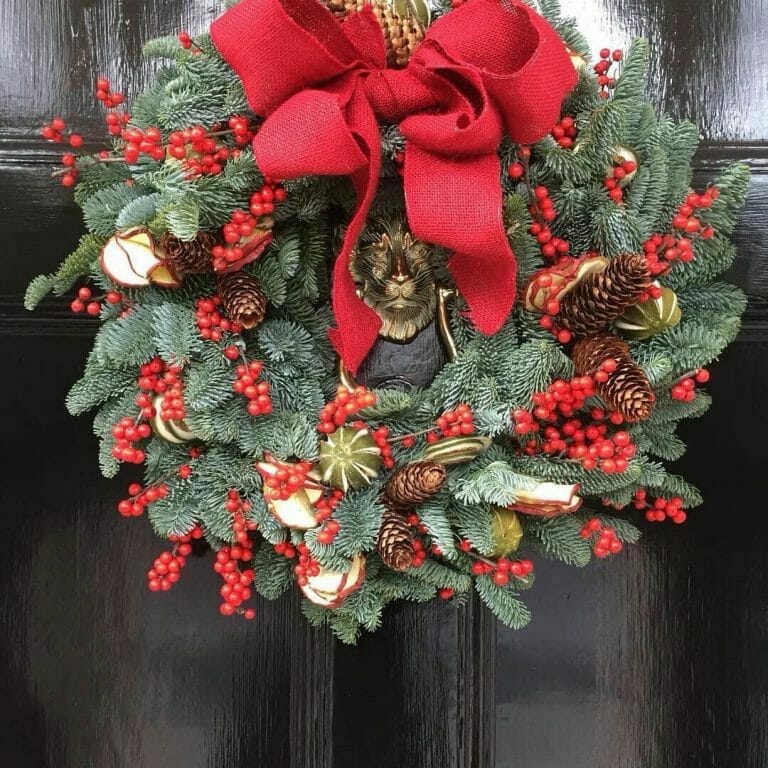 Big or small, we can create a lovely wreath to suit your front door.
Shop here.
 Advent Wreaths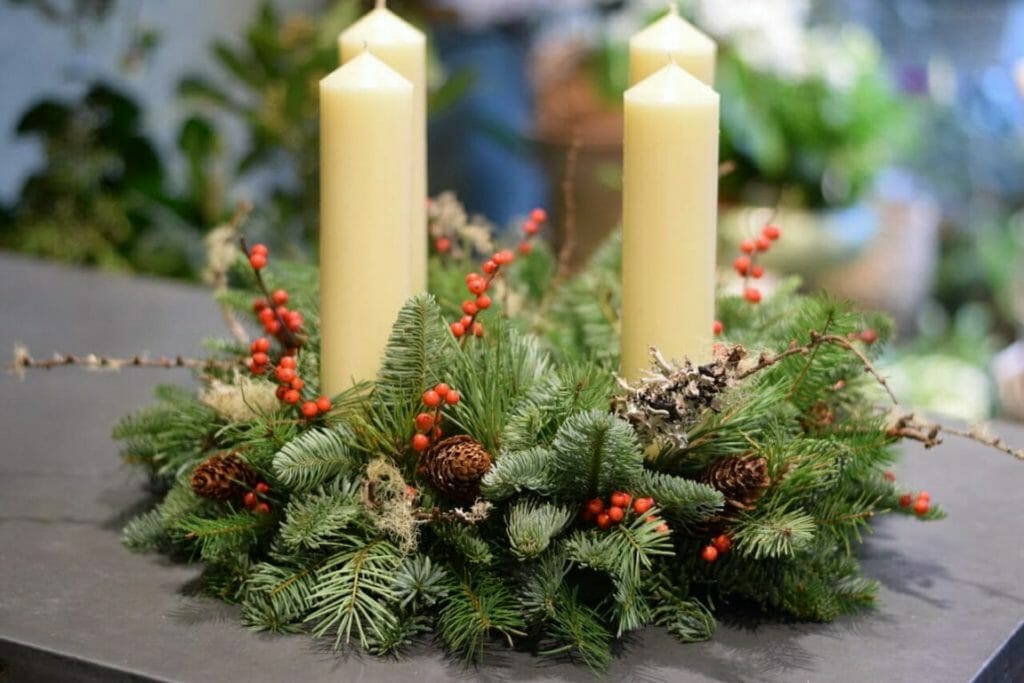 Advent wreaths usually have four candles placed around a wreath for a table. The candles are to be lit each Sunday in the lead up to Christmas signifying the four weeks of advent.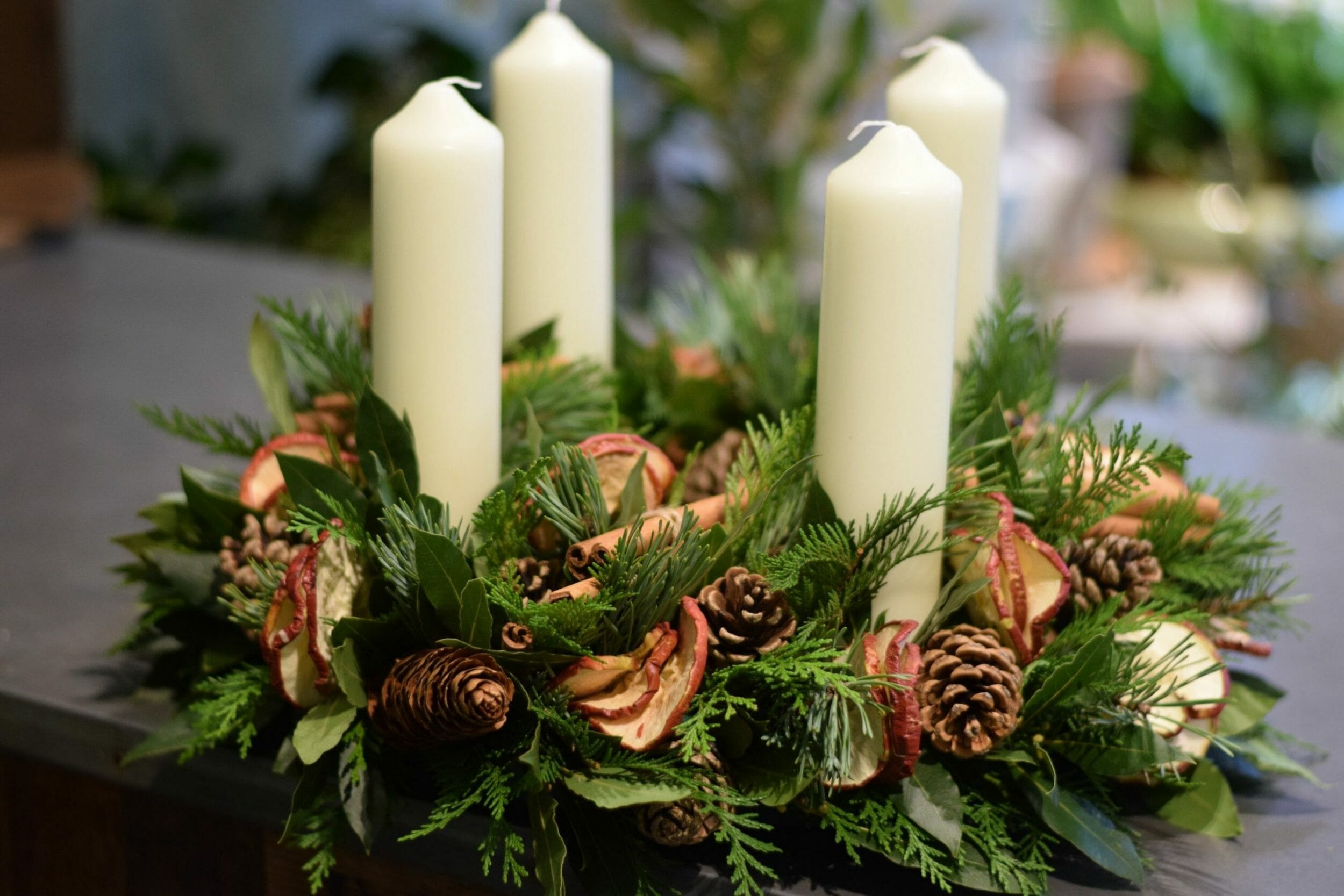 Shop here.
 Table Centrepieces and Decorations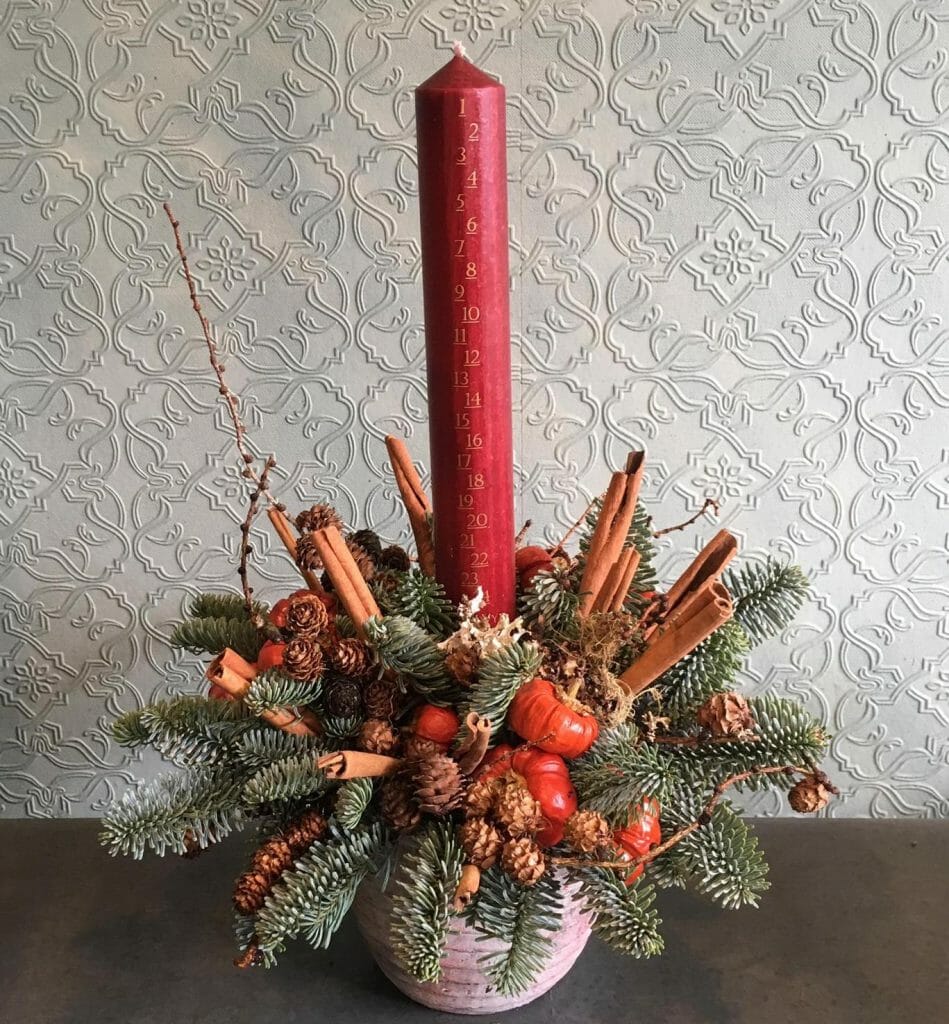 Whether it be a single wreath and candle to be placed in the middle of your table, a garland or a series of smaller vase arrangements we can create something beautiful for your Christmas table.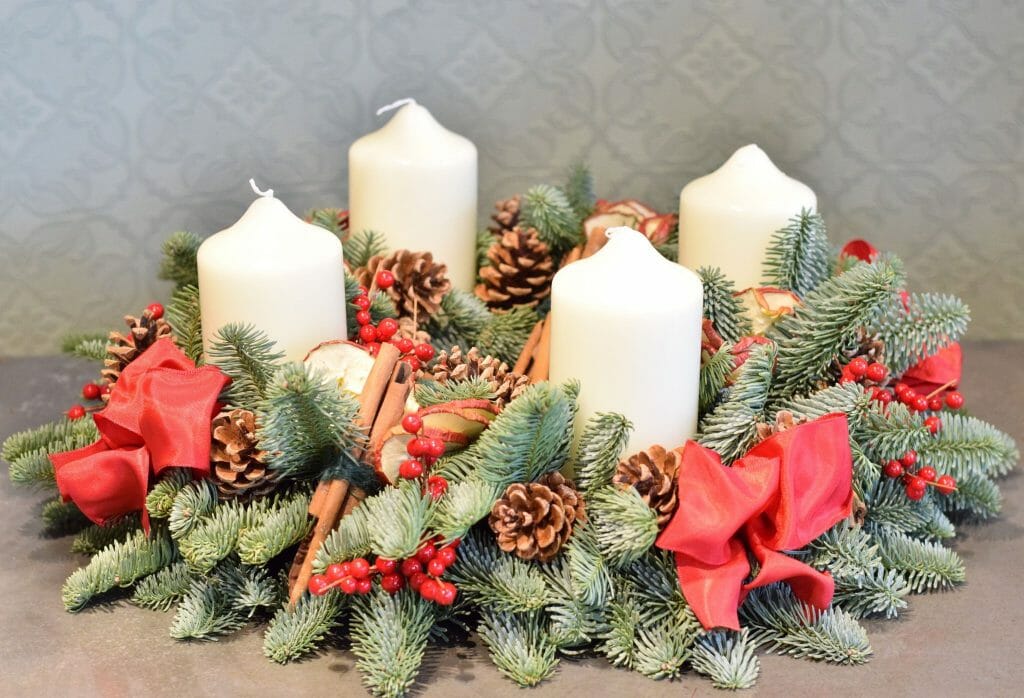 Shop here.
Christmas Bouquets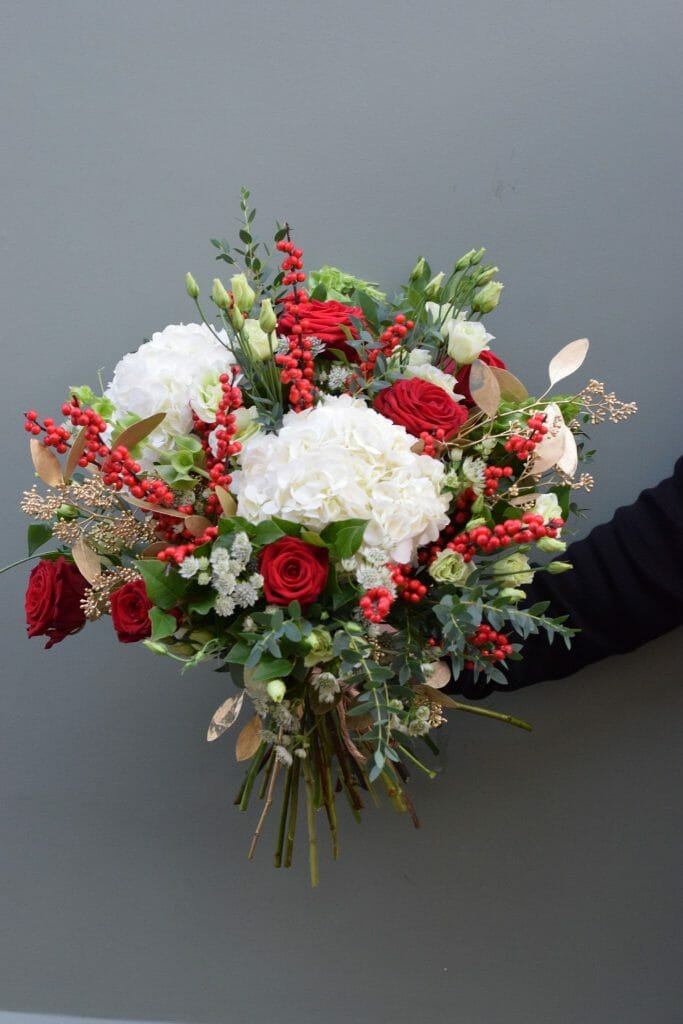 Festive and a lovely gift appropriate to the season. We can make bouquets in seasonal colours and with a mix of foliages.
Arrangements for your home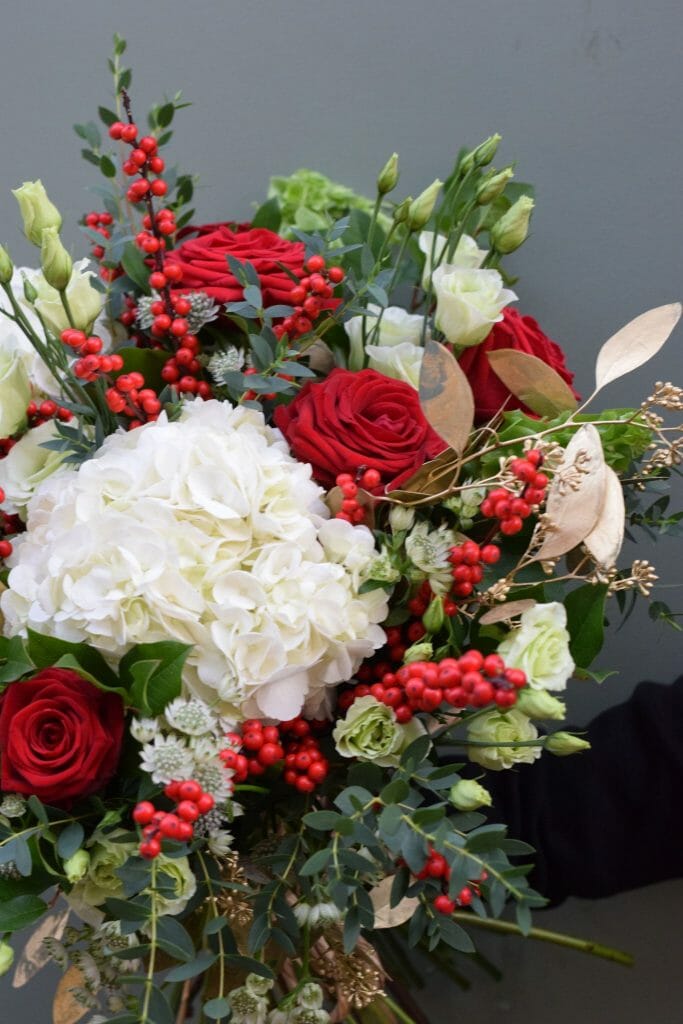 Ensure that your home looks lovely for the inevitable onslaught of houseguests and visitors by ordering a vase arrangement.
If you have a particular favoured place in your home for the arrangement to go and you are local, we can come and install it for you. Otherwise we can deliver arrangements in the vase, or as a bouquet, which can be easily added to a vase on arrival.
If you would like us to continue to replace your arrangements over the festive season this can also be arranged.
We love creating unique and special arrangements for our clients, if there is something in particular you would like us to arrange for Christmas please do get in touch to discuss it with us, the more notice you can give us the better!
Remember that we provide flowers for all kinds of occasions, however big or small. If you are hosting a dinner party and would like something for the table or if you would just like your home filled with vase arrangements we can help.
Please give us a call at the shop on + 44 (0) 20 7225 3176