Flowers for Small Weddings
Small weddings seem to be rising in popularity and we have been providing beautiful flowers for several of these smaller ceremonies in recent months.
It appears as though the covid regulations affecting how many people were allowed to gather for weddings and funerals has had a lasting impact, despite these rules no longer applying. We're seeing a fair amount of our customers choosing to make their big day a more intimate affair, and we're proud of what we have produced for these events.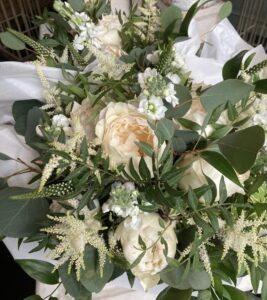 Pictured above is a beautiful bridal bouquet featuring scented garden roses, veronica, astilbe and eucalyptus foliage. For the same couple we also created an urn display for the church service in Chiswick with gladioli, hydrangea and gyposophila, as well as flowers for their pub reception- a composition of mason jars some filled with white hydrangea en masse and others with mixed scented English foliage (below).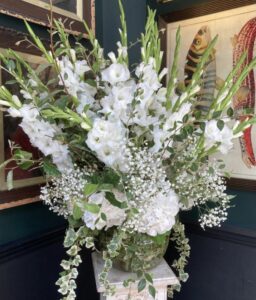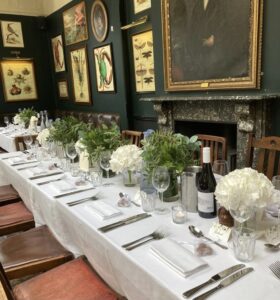 One bride opted for a rather simple yet elegant bouquet of phalaenopsis orchids, whereas another gorgeous bride went all out with a headdress made of white spray roses on top of a bouquet of white peonies, astrantia and eucalyptus (both pictured below)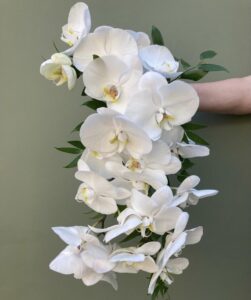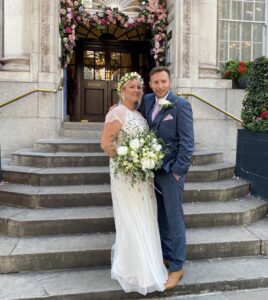 With the holiday season impending here at Kensington Flowers we would like to remind you of some of the great gift ideas we have available. For example, our champagne flower bottles are available on our website. These bottles are recycled and hand-crafted in Norfolk and come adorned with a bespoke arrangement of seasonal flowers. On top of this, we offer a selection of delicious handmade treats by Balham Bakes alongside a bouquet. The treats are freshly made for each order and a portion of the profits go to charity- both of these are available on our website, though we do sell the champagne bottles individually in store along with an array of plant pots.