Welcome 2022
Hello and happy new year!
The grey January days have been very cold but we have brightened the days here in Kensington, with a shop filled with bright and cheerful spring flowers.  We have a lovely stock of British grown Smith & Munson tulips, Italian anemones and ranunculus, scented narcissi, hyacinths and scented genista and mimosa flowers.
Our shop window urn display is filled with bright sunny yellow forsythia branches at the moment, and has certainly caught the attention of local residents,  whom are wanting to take stems home with them!
We are pleased to introduce this month, a new product to our website online store – Spring flower vase arrangement.  This compliments our spring bouquets that are very popular in the shop at the moment.  We have lovely coloured, cut glass vases that seem to be a perfect fit for the shorter stem spring blooms so we thought to offer these as another choice.  Unlike our other products, we are offering this arrangement as one size only.  Please take a look and let us know what you think.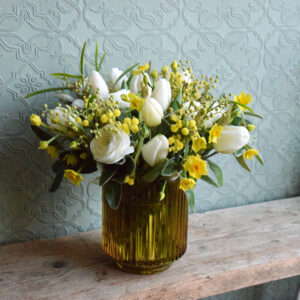 It's Chinese New Year, the year of the Water Tiger.  The support of this special sign, offers positive and hopeful vibes for the year ahead.  We hope 2022  brings happiness,  good health, peace and prosperity to all.  Happy New Year!