Nicola joins our team
Exciting news!  We have expanded our team and am so happy to welcome Nicola to Kf.
Pictured here with Douglas, it already feels like she has been with us for years. Nicola is a starter to the flower world, having had a change of career and recently completed a floristry course with Capel Manor with flying colours.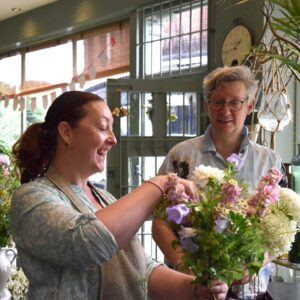 Nicola decided she wanted to deepen her creative flair, love of nature and nurturing crops during lockdown.  This prompted her decision to study a career in floristry and join us at Kensington flowers to learn the trade.  In addition to her vegetable plot that she & her husband are very committed to maintaining, they are currently embracing the exciting opportunity of developing a cut flower plot.
So watch this space…one day you may quite likely be able to buy her home grown flowers from our shop!
Summer holiday closure
Our annual closure for the summer holidays has arrived, and tomorrow we will be closing our shop door. It has been a very busy few months and am so grateful for all the custom & support we have received during these past couple of challenging years. We are reopening after the bank holiday on 30th August and have some exciting ideas and plans in progress, that we look forward to sharing in the new term.
Wishing you a wonderful summer and see you in September!