Valentine's Day Flowers
The giving of flowers on Valentine's Day has been a tradition since the 17th century. As roses were considered Venus, the goddess of love's, favourite flower they became the most popular way to represent one's love.
About a century later, Charles ll of Sweden appointed a meaning to every type of flower, the tradition of sending flowers was then used to convey non-verbal messages. The red rose that has become synonymous with Valentine's Day, unsurprisingly, represents love and romance. However, there are many unorthodox ways to show your valentine how you feel.
For example, pink roses can represent appreciation and gratitude, tulips can be interpreted as a gesture of deep or 'perfect' love. Anemones are considered a symbol of anticipation, whereas lilies can symbolise devotion. 
We have been creating a variety of alternative Valentine's bouquets in the shop this month, here are just a few: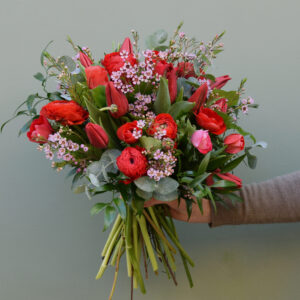 This beautiful spring bouquet emulates the bold red associated with Valentine's Day despite containing no roses. It is composed of red anemone, tulips, ranunculus and wax flowers.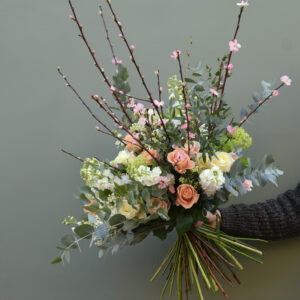 The stems of blossom not only bring a piece of spring inside, but really help highlight the peach and pinks of the roses within the bouquet.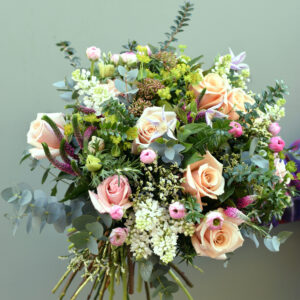 Pearl and sweet avalanche roses in pink and peach tones are the highlight of this bouquet. The clematis and pink ranunculus carry little pops of colour between the roses and eucalyptus foliage- creating an elegant muted palette.
Valentine's Day flowers are currently available to order online and in store, alongside handmade cards from British artists and gifts such as freshly baked goods made to order from Balham Bakes.