Seasonal February Flowers
February flowers
As florists we see all kinds of love, from the everyday to the those truly special occasions. We celebrate it and we love being able to turn it into something tangible to give to those you love.
Valentines Day originated back in Roman times and has been celebrated as a day of romance from around the 14th century. Traditionally the day was a day to proclaim your love for a secret sweetheart. Nowadays it is a day to celebrate and express our appreciation for all forms of love in our lives. Be it friends, family, loved ones – whoever you feel like celebrating. It is just a great excuse to say thank you and I love you to your nearest and dearest really!

Our guide to choosing the perfect flowers for Valentines Day.
With this in mind we wanted to give you a quick guide on how to choose the best flowers to express love all kinds of love!
Red Roses
Starting at the top, red roses are the ultimate Valentines Day gift. They traditionally represent love and beauty – it doesn't get much more romantic than that! The number of roses gifted can also have different meanings – 12 red roses are thought to be the number that conveys 'I love you'.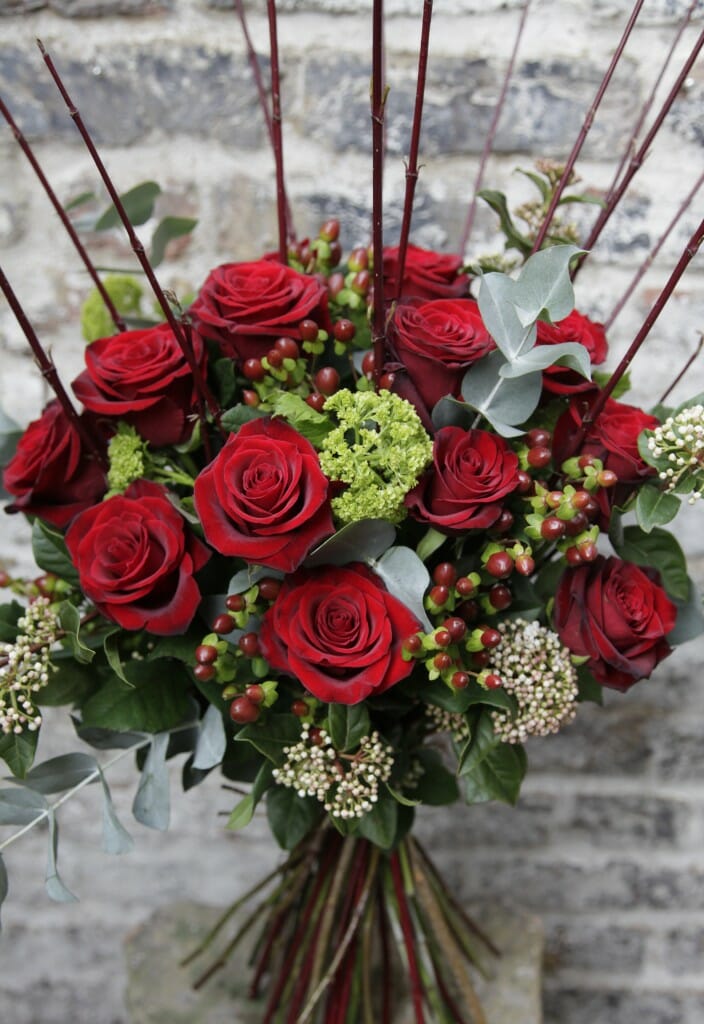 A gift of red roses is an unmistakable expression of love. For our red rose bouquet we offer the option of 'dressing' the roses. As in the image above, we will include foliage such as eucalyptus or go-go (gaultheria). We can also include hypericum berries or pussy willow branches to add interest to the bouquet.
Garden Roses

Less obvious but just as lovely yellow roses can convey warmth and joy. A gift of yellow roses can symbolise friendship and caring. Similarly pink roses are also used to convey admiration, joy and gratitude.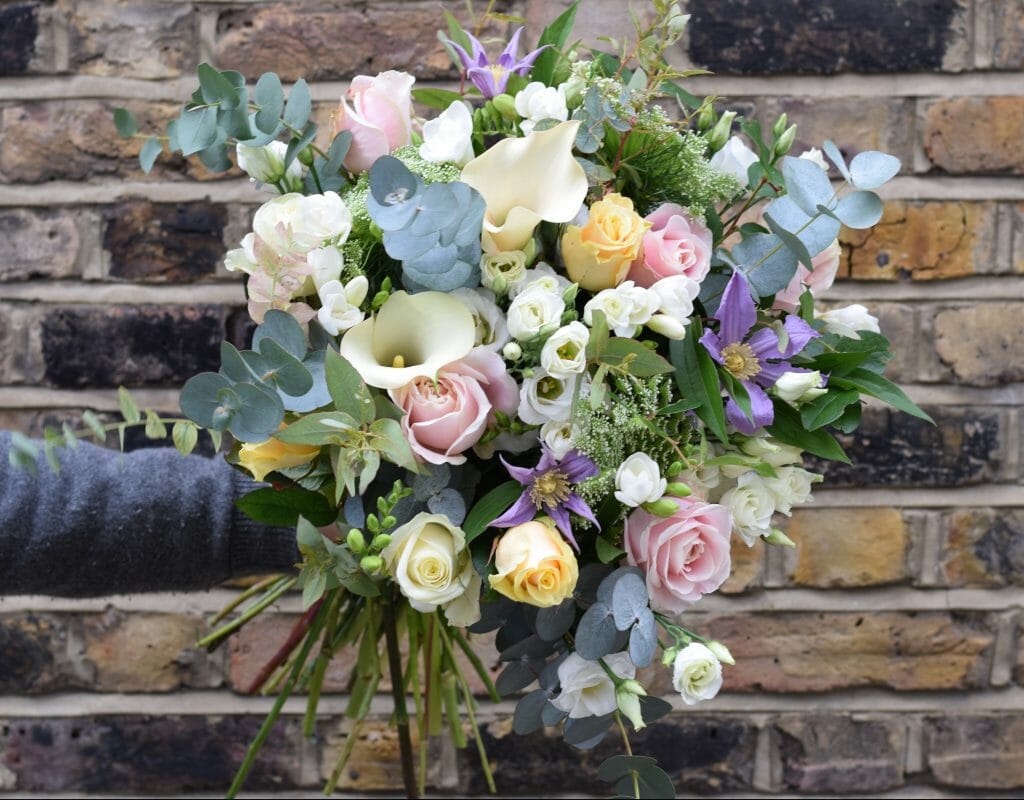 Tulips
Tulips are in season and in fine form at the moment and come in a beautiful range of colours. The red tulip is thought to represent 'perfect' love. A bouquet of mixed tulips represents elegance and grace and is a gift of joy! We offer bouquets of tulips either on their own or 'dressed' with beautiful foliage and for something very special mixed with red ranunculus, also in season at the moment.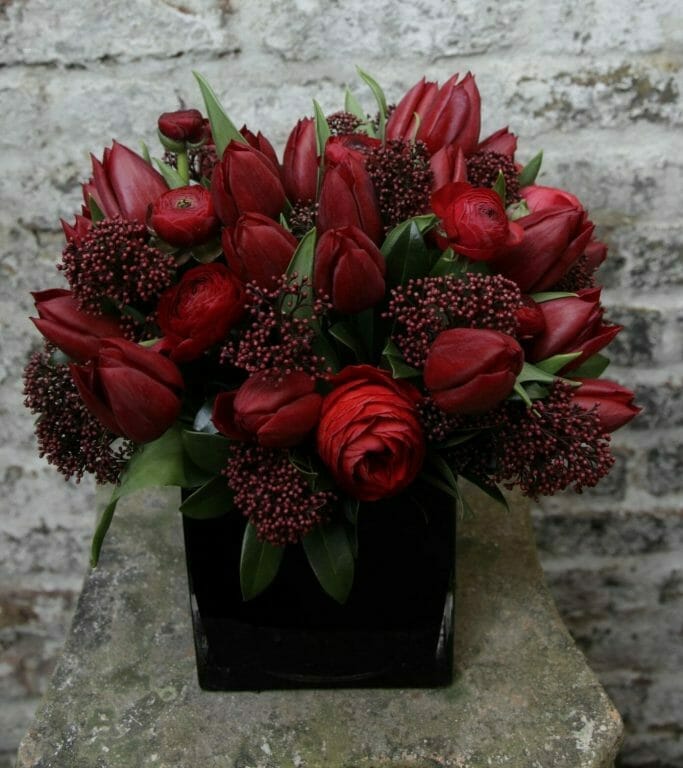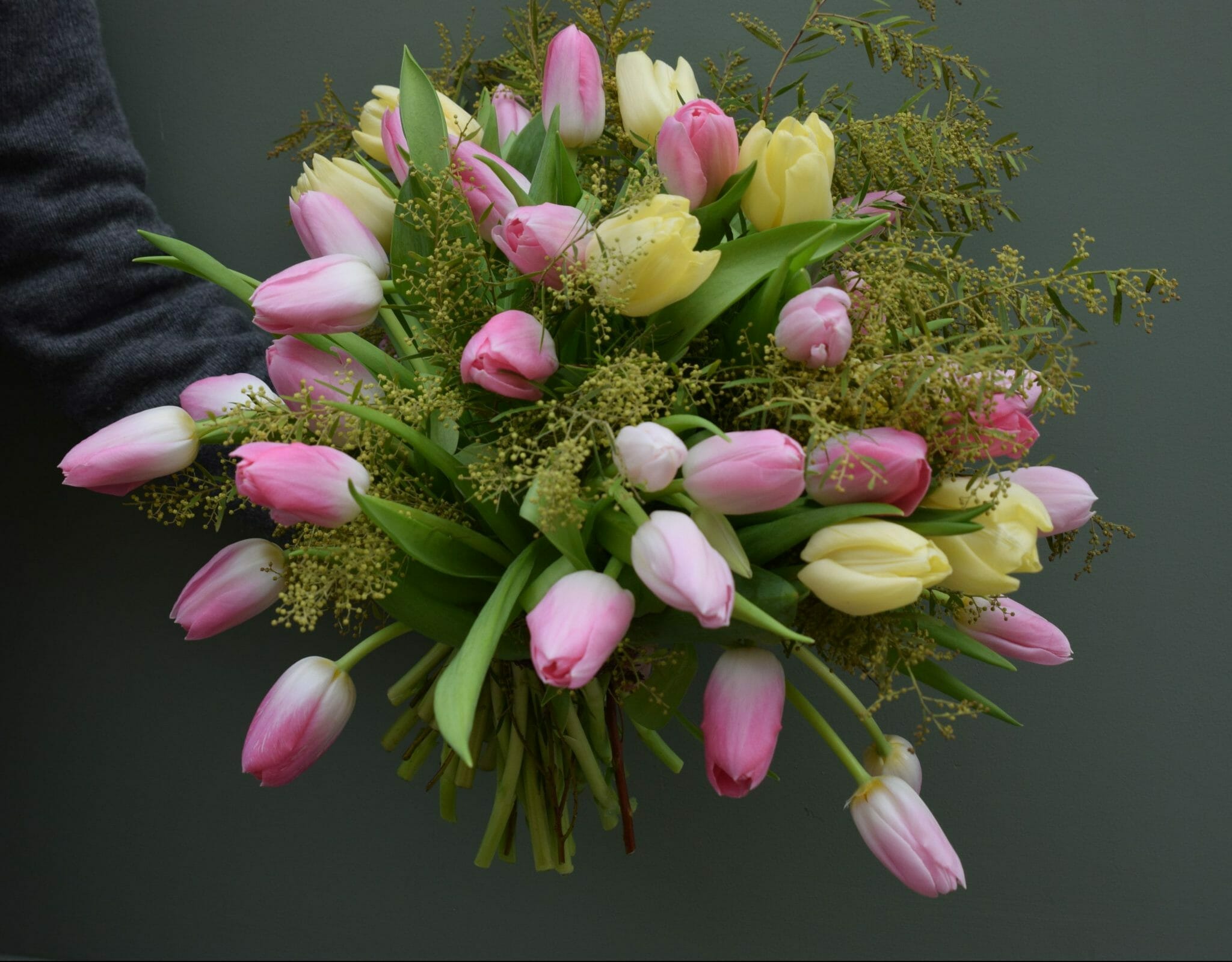 Orchids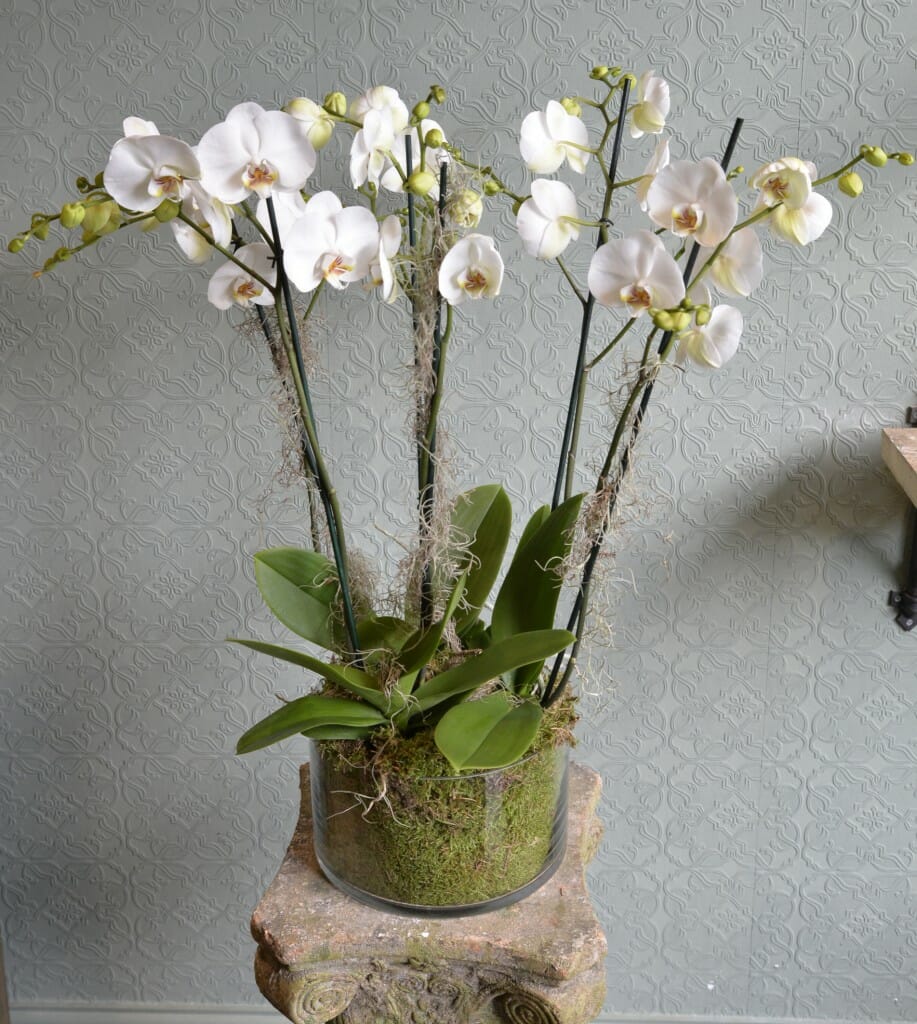 For the gift that keeps on giving an orchid is the perfect choice. Delicate, exotic and graceful, the orchid represents love, luxury, delicate beauty and strength. With over 20,000 species of orchid in the world you are spoilt for choice and with each being as beautiful as the next, you really can't go wrong with this one!
Anemone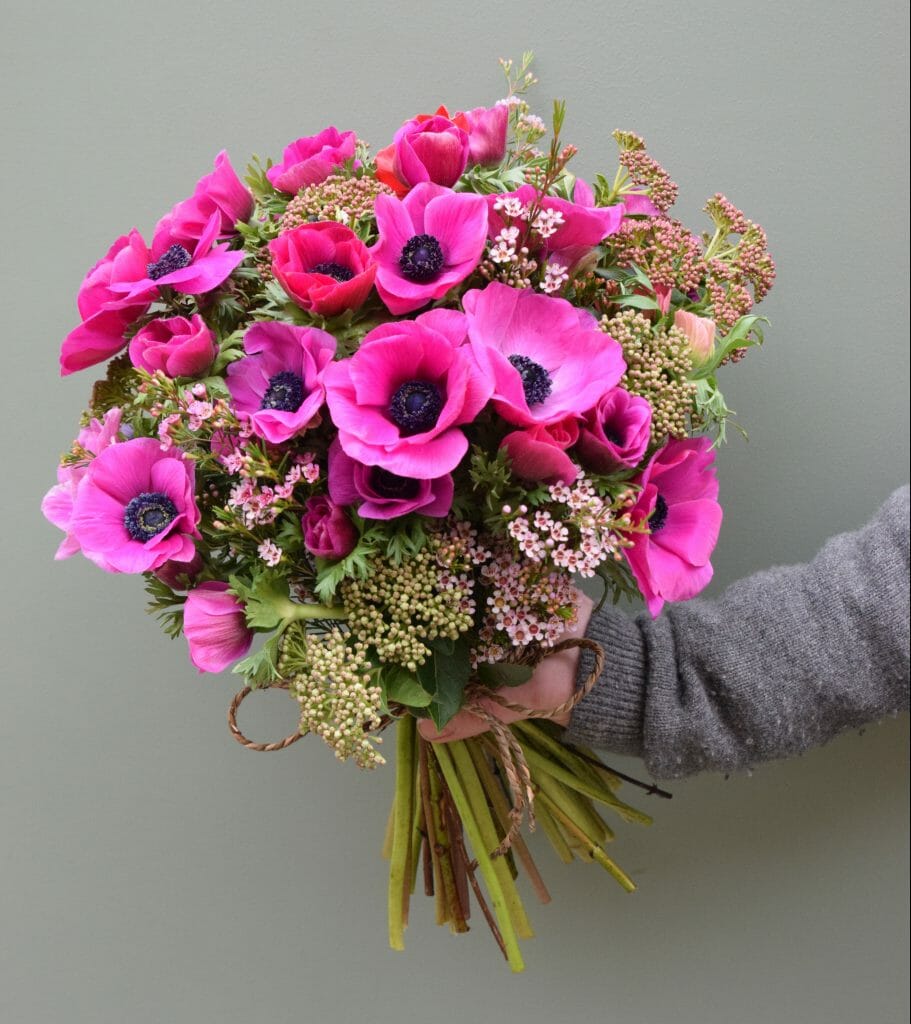 Finally the beautiful and unusual anemone. Originating from the buttercup, anemones are thought to symbolise protection, sympathy and love. These flowers are also known for their ability to predict rain. It is said that when their petals close up a storm is on it's way!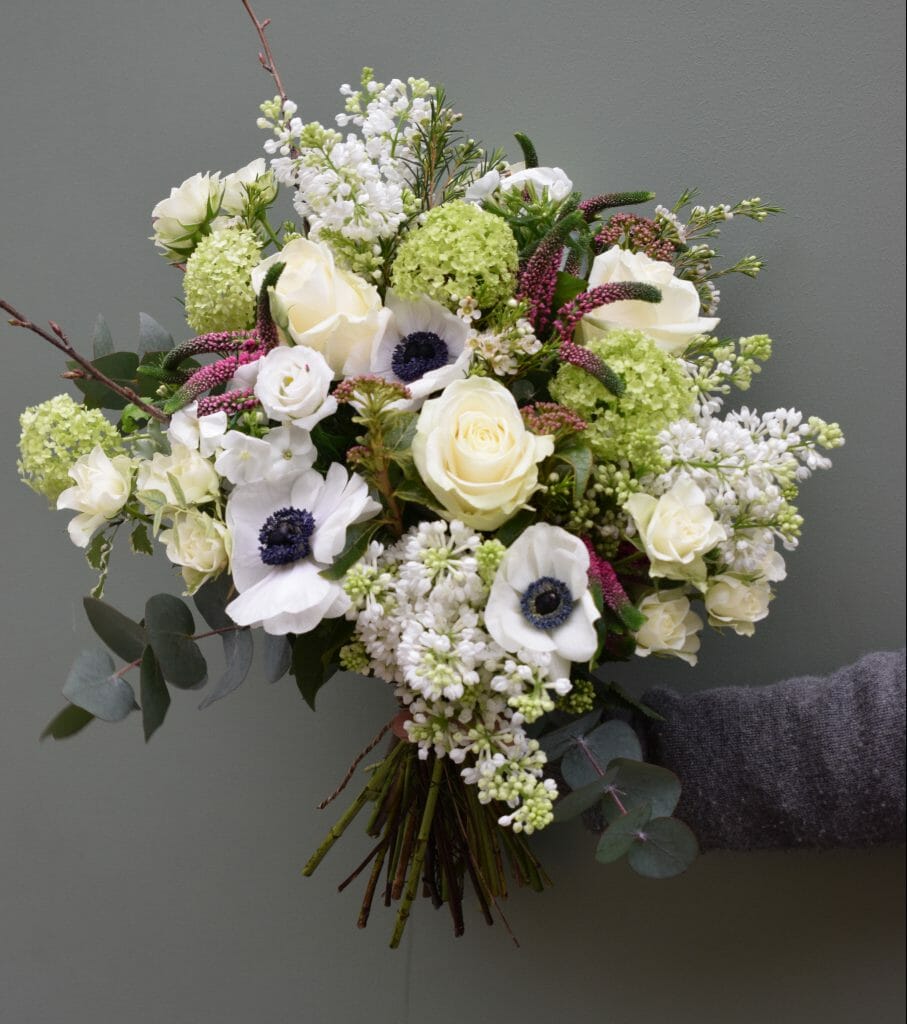 Regardless of which you choose, we think that the gift of flowers is the most special one of all. Beautiful and unique, we can create something very special to express what matters most to your loved ones.
We offer same day delivery across London and overnight delivery in England. If you would like to make an order for Valentines Day (or any other day for that matter), please visit our online shop here. 
Or give us a call on 020 7225 3176 to discuss what you have in mind.
SaveSave